East Meets West is a collection of wonderful vignettes guaranteed to delight, enchant and amuse the audience.
Each vignette is a different story with its own message to share. The combination of short pieces offers both Asian and Western characters and ideas blended, and based upon experiences in both cultures, by Master Artist Hua Hua Zhang. The show is performed with Chinese traditional dance and with string puppets, hand puppets, and rod puppets.
East Meets West is a family-oriented production and has been performed at and acclaimed by audiences of all ages at numerous venues from schools, libraries and Chinese adoption organizations to such distinguished theaters as The Smithsonian Discovery Theater in Washington, D.C., Mum Puppettheatre in Philadelphia, PA, and The Children's Museum in Boston, MA.
East Meets West Part I is premiered at the Rialto Theater, Canton, PA, on May 10, 2001. East Meets West Part II is premiered at The Colonial Theatre on April 12, 2008
Conceptual Artist, Puppet Design and Sculpted, Choreographer and Performer - Hua Hua Zhang
Artistic Director, Technical Designer - Bart Roccoberton Jr
Composer - Liang Liang
Lighting Designer - John Miller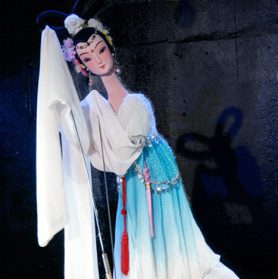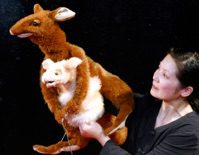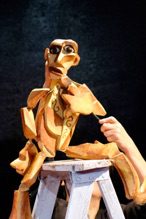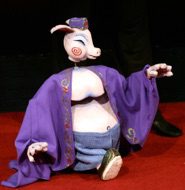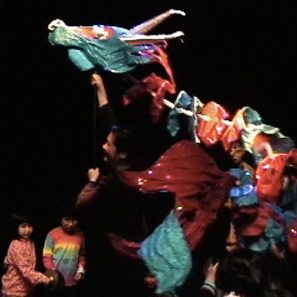 FEEDBACK
I can't tell you how exciting it was to have Hua Hua Zhang's luminous show East Meets West at our theater. The puppets are beautiful, the individual pieces are engaging and beautifully performed, and Hua Hua herself is such a gracious and generous artist. All of us - our staff, the children, and their parents were completely mesmerized the entire time she was on stage. We cannot wait to have her back again!
Karen Larsen, Artistic Director
Puppet Showplace Theater
Brookline, MA
Your skill in Chinese puppetry is evident: such precision, such synergy between puppeteer and puppet... You are bursting with a pixie-like, infectious joy in sharing this ancient art form to a new world... Most importantly, your touch with young audiences makes children from age two through twelve feel personal connection to you and your puppet creations.
Roberta Gasbarre, Director
Discovery Theater
The Smithsonian Institution
Washington, DC
Hua Hua not only made her mark as a graduate student at the prestigious puppetry program at the University of Connecticut, but she became the puppet muse for Tan Dun, the influential and Oscar winning composer who chose her to create and perform the visual parts for his international tour of The Gate.
We at the Mum Puppettheatre had the honor of hosting Hua Hua's East Meets West here in Philadelphia two years ago. The show, like Hua Hua herself, was captivating and poignant, a single person using herself as a bridge over the gap between one culture and another.
Robert Smythe, Artistic Director
Mum Puppettheatre
Philadelphia, PA
Your performance was extraordinary and the audience reacted appreciatively. I have sent their comments...
I quote one grandmother who told me as she left: "This is such a luxury for us." You have given us all, young and old, a desire for more.
Claire Bortis,Children's Services
Bradford County Library
Towanda, PA