Journey to the West is one of China's four classic novels and its most popular due to the antics of its main character, Monkey King.  So what is Monkey doing in America?  In Pennsylvania?  Simply taking part in yet another Chinese production?  No—in Visual Expressions' Monkey King he is going to do his thing in America—in the Endless Mountains of Northeast Pennsylvania, to be exact, in a production now in progress that will revolutionize/Americanize the use of contemporary shadow puppetry.  We are focused mainly on one particular episode in the journey, the adventure of the "golden bells," in which Monkey King restores a small kingdom to peace and prosperity that has been bedeviled for years by a great demon.  We want to show not just the supernatural feats of this great mischief-making, sometimes arrogant hero, but also how he "grows up" and gains maturity and wisdom – and, along the way, to demonstrate the almost slapstick elements of comedy involved in the relationships between the three principal characters of the play: the holy Monk and his two disciples, the boastful Monkey and the blustery Pig.
The production of Monkey King is commissioned by the Bradford County Regional Arts Council and received a New Directions grant from the Pennsylvania Performing Arts on Tour. It was written by Robert A. Anderson who has been China four times where he has seen dramatizations of Monkey King's adventures.  The play remains faithful to the colorful and zany spirit of the original, but its biting satire is now directed at American targets—politicians, health insurance, drug companies, sex.  The 3D masks and scenery are inspired by Chinese painting and sculpture designed by Chinese puppet artist Hua Hua Zhang.  The original music ranges from Chinese to American rap—by Chinese composer Liang Liang and American improvising multi-instrumentalist Mary Knysh. The lighting and sound is designed by John Miller.  Monkey King is premier at the Sayre Theatre, Sayre, PA, on August 17, 2010.
Artistic Director and Mask & Scenery Designer - Hua Hua Zhang
Playwright - Robert A. Anderson
Composer - Liang Liang
Song Composer and performing musician - Mary Knysh
Custom Designers: Joyce Ritz and Hua Hua Zhang
Narrators - Joe Newbury and Julie Larnard - Newbury
Monkey King - Kasidy Benjamin
Demon King - Lukas Poost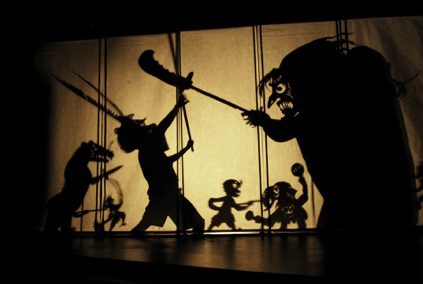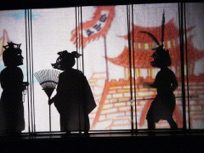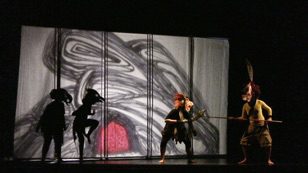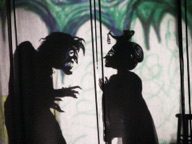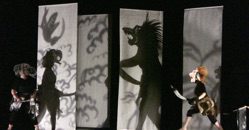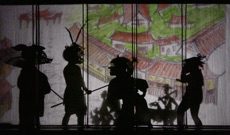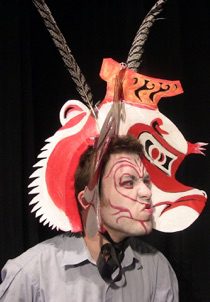 FEEDBACK ON REFLECTIONS
Innovative "Monkey King" theatre production merges East and West … this is a performance unlike any you will see in our region.
THE DAILY REVIEW - Wyalusing Newspaper PA August 19 2010
"The Monkey King" takes Zhang's shadow puppetry and brings it into the third dimension with layered backgrounds and colorful characters choreographed in front of the screen."
MORNING TIMES - Sayre newspaper PA August 17, 2010
Local door opens to China. "The Monkey King" features a breakaway screen with actors in their dynamic mask behind and in front of screen to create a more three-dimensional experience.
MORING TIME – Sayre newspaper PA August 18, 2010
"The Monkey King" brings the magnificent artistry of Hua Hua Zhang to the stage, once again. The merriment of her shadow puppetry interspersed with the interpretive play of her actors keeps her audiences mesmerized. Hua Hua brings new excitement to an old Chinese fable with never-ending creative abilities that take this piece to a new performance level. My entire family, from young grandchildren to adult members, found "The Monkey King" to be an exciting evening providing much material for later conversations.
Irma Henson - Former director of the performance program in Bradford County Regional Arts Council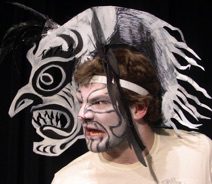 Hua Hua's show is synchronized with shadow, silhouette, emotion, East and West. The show brought you to the land which you never entered.
Tomoko Henty -Writer
I recently saw Hua Hua Zhang's production of The Monkey King and the Golden Bells. It was a visual delight. Her innovative techniques with the use of moveable screens and actors behind and in front of the screens created a rich tapestry for the audience to behold. The multiple shadows of a single actor on the screens kept my attention and imagination throughout the entire show. Children and adults alike seemed to enjoy the show on many different levels.
Mary Attardo Krench – Art teacher at H. Austin Snyder Elementary
Hua Hua Zhong's play of "Monkey King" in Bradford County was a marvelous treat, the Chinese epic tale of "Monkey King" presented with unique shadow puppets, and beautifully enacted by some talented young actors from the area. These actors mastered an art form very different from anything they'd done before. Ms. Zhong's realization of this tale was a feast for eyes and ears, and had the audience, including some very young children, totally entranced. It's a show well worth seeing.
Ruth Donnocker – Retied Teacher