Reflections, Visual Expressions' production, developed in collaboration with Pandemonium Puppet Company, is the recipient of a 2006 grant from the Jim Henson Foundation . The show is based on observations Hua Hua Zhang made growing up in China, her observations living in America for nearly nine years, as well as her observations while touring and performing in more than a dozen countries around the world.
     We live in a very special time; one filled with creation and discovery as well as conflict and turmoil. Our lives are ever changing; at times very comfortable and at times confusing. The conflict and peace of our inner thoughts depend on many circumstances. Making choices can be difficult. Resolutions are unpredictable. According to ancient Taoist Chinese philosophy, keeping the balance and harmony of nature is the core requisite for a rich life. Reflections explores from different angles how people deal with this balance; achieving it or not. The essential concept of the production is to give the audience a broad invitation for questions and discovery while reflecting on their own experiences and feelings. Some of the questions presented are: What is the importance and value of family? Where are the connections that make life significant? What is the balance of power and wealth? How does love come into effect? Where is the harmony in the world? Is there hope?
Mature Audience Production. Reflections premiered at the Sayre Theatre, Sayre, PA, on March 11, 2005.
Conceptual Artist, Puppet Designer and Sculptor and Choreographer - Hua Hua Zhang
Director, Technical Designer and Lighting Designer - Bart P. Roccoberton, Jr
Composers - Liang Liang, David Darling and Mary Knysh
Lighting and Sound Technique Director - John Miller
Performers - Hua Hua Zhang, Oswaldo Tirano, Doug Strich, Eric Wright, Aki Shinozaki and Lorraine Gilman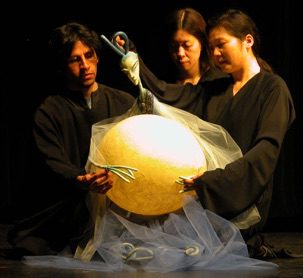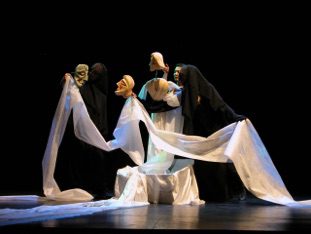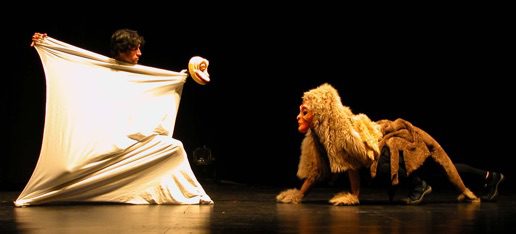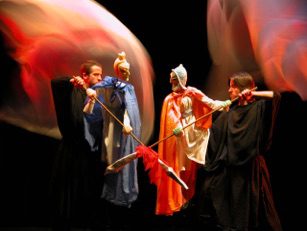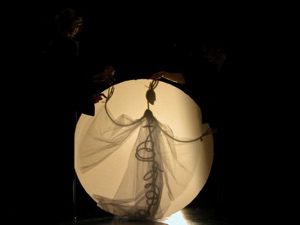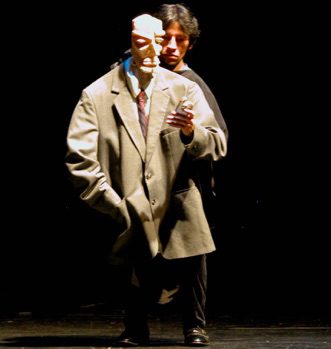 FEEDBACK ON REFLECTIONS
I have had remarkable experiences working with Hua Hua Zhang. She premiered Reflections in our Sayre Theatre…. Hua Hua is one of the finest performers I've had the privilege of working with. Her skill and understanding of her art are very complete. And she is so introspective she can take her audience right along on her journey. She is more than a puppeteer. She is a musician, a dancer, an actress an interpreter, a creator.
Irma Henson
Program Director. Bradford County Regional Arts Council
She was one of the leading puppeteers in the leading puppeteer group in China, which to me, says she's the best… When Ms. Zhang first came to the U.S. she was already a remarkable puppet performer. While she has been here she has developed outstanding skills as a designer and builder… With full honesty I can say that I have never met a more creative individual.
Bart Roccoberton
Director Puppet Arts Program. University of Connecticut. Storrs, CT
I was astonished and mesmerized by Reflections. It is a beautiful and enchanting work of theatrical genius combining multiple art forms including dance, music, sculpture and acting. Reflections is world-class theatrical art in its finest tradition.
I love Hua Hua's work so much that I married her!
Robert Blau - Attorney. Philadelphia, PA