Tian Wen: Heavenly Questions for Modern Times
World Premiere at the

Ellen Stewart Theater

La MaMa NY Nov 3 - 5, 2018
Inspired by a classic Chinese poem, Tian Wen is an experimental puppetry performance featuring living sculpture, stylized movement, and live music. The individual pieces - or dreams - explore the differences in feelings, concerns, and behaviors between East and West that Hua Hua Zhang has observed during her artistic journey in America.
In the piece's magical dreamscape, powerful images abound: beautiful lanterns, a mysterious balloon, a stunning bird that both agitates and inspires, rocks and skeletons that thrillingly come to life. Through these images, many themes are explored, including loneliness, competition, compassion, self-reflection, as well as the balance between love of self and love of other. Taken together, these powerful and evocative dreams grapple with difficult questions we face in modern times.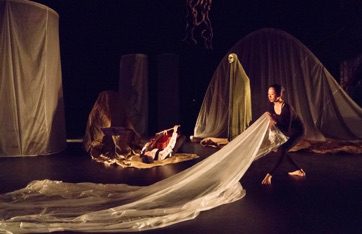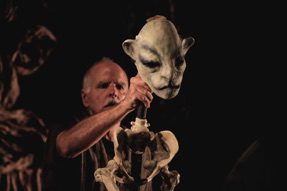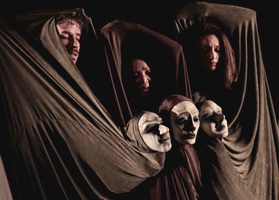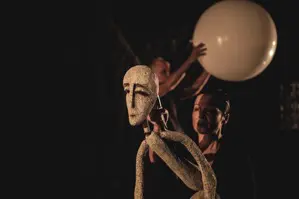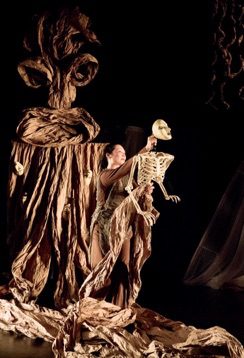 CREATIVE TEAM
Hua Hua Zhang - Creator, Artistic Director, Puppet & Set Design and Sculptor
Adam Danoff - Production Manager, Stage Manager
Michael Cocchiarale - Co-writer
Cory Neale - Composer and Sound Designer
Federico Restrepo - Lighting Designer
Nai-Ni Chen - Guest dance artist for performance 'Water'
Nan-Cheng Chen – Cello Performer
Performers: Hua Hua Zhang, David Regan, Travis Draper, Jeanne Lyons, Adam Danoff and XingXin Liu
Photos: Richard Termine & Carlos Cardona
"I loved the performance. The grace, the energy, creativity and elegance were all interacting to bring the audience to a wonderful and almost spiritual place. Considering the state of the world that is no small accomplishment. Congratulations!!!! The sophistication of the dancers and the puppeteers too were wonderful to experience".
"Zhang's art is a modern interpretation of puppetry. Her contemporary style blends the essence of East and West and gives every audience a unique feeling."
– Dan-Yu Tang for Metro Chinese Weekly
I was amazed at seeing the many forms of art come to life as it did. Magical and fulfilling indeed. The performances energy drew me in and left my mind filled with many emotions. Delightful indeed!
It was a fantastic show…
Tian Wen more than lived up to expectations.
...The movement with objects took the audience through many emotions and experiences. I felt exhilarated by the end of the show...